Single Ply Membrane Flat Roofing For Quality and Longevity
Because many commercial and industrial businesses feature flat roofs, it's important to ensure top-quality materials and a watertight fit. By their very nature, commercial and industrial roofs take more abuse, from ponding to debris collection, than pitched roofs. That's why you need the peace of mind that comes with single ply membrane flat roofing. Here at Allen Consulting Group, Inc., we use USA-made materials manufactured from Duro-Last. This single-ply membrane flat roofing system is leak-proof. It's also resistant to chemicals, fire and high winds. Lastly, it's maintenance-free for your convenience.
In business for more than 30 years, our team wouldn't recommend or use anything but the best roofing materials on the market. That's why we use Duro-Last single ply membrane flat roofing for longevity, strength, beauty and durability. We give our contractors and building owners choices when outlining a new construction or retrofit roofing project. Custom prefabrication affords many benefits, not the least of which is the ability to eliminate up to 85% of roof top welding and seaming. And with products designed to ensure a watertight fit, this prevents leaking and other problems that can become very costly.
Benefits of Duro-Last Single Ply Membrane Flat Roofing
Over the last few decades, single-ply roofing membranes have become more and more popular thanks to their flexibility, ease of installation and competitive price. Here are additional benefits you could experience as a commercial or industrial business owner using Duro-Last products:
Resistant to tears and punctures
Custom prefabricated and reinforced
Affordable cost
Easy installation
Minimal disruption to business operation
Leak-proof
No messy clean-up
Low maintenance
Fire retardant
Professionally installed
Energy efficient
Inspected by Duro-Last Quality Assurance Specialists
Wind resistance
Flexibility
Made in the USA
Recyclable
15- and 20-year warranties available
Reduces roofing waste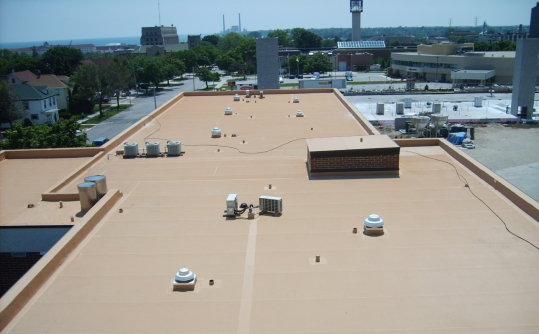 Contact us About Single Ply Membrane Flat Roofing
Contact Allen Consulting Group, Inc. today at 800-914-8667 or email us at acgi@allenconsultinggroup.net for more information on the single ply membrane flat roofing we offer. Our team can go over our process and provide you with a free, no-obligation estimate.