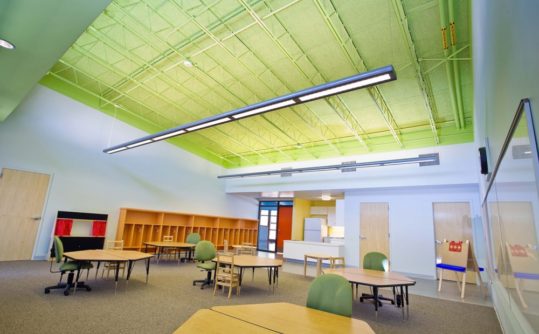 Noise Control Solutions
When Acoustics, Style & Toughness Are Required
Whether you require wall panels, ceiling panels, or an acoustical roof deck, TECTUM by Armstrong has the right product for your noise control problem. Our reputation for acoustical solutions in the commercial and institutional construction industries is well respected. With over 60 years of experience in reducing noise worldwide, TECTUM by Armstrong specializes in acoustic panels that are both abuse and impact resistant.  Hard reflective surfaces, multiple noise sources and the need to hear and understand others are the primary reasons that good acoustic are a critical part of any design.
Exterior
Easy to work with and install, TECTUM roof deck panels are not only sound-absorbing, they are tough enough to stand up to architectural and structural demands. Commonly used in new construction and retrofits where acoustic absorption, style and toughness are needed, TECTUM roof decks absorb sound and are tough enough to stand up to daily abuse in high-traffic, heavy-use areas.
TECTUM Structural Acoustical Panels are composed of aspen wood fibers (excelsior) bonded with an exclusive, inorganic, hydraulic cement and are formed in a continuous process under heat and pressure. The physical characteristics include excellent sound absorption and noise reduction, abuse resistance, insulation, a decorative textured interior finish… all in a single structurally strong yet lightweight product that carries a Class A flame spread rating.
Panels are available in natural and are easily field painted after installation.
Interior
From a natural factory finish or white, to integration with Colorations colors (that's 13 standard colors) or made-to-order Sherwin-Williams® colors, TECTUM panels can coordinate or complement your color palette with the sizes, shapes, and forms that make your designs happen.
Toughness and acoustics are at the heart of TECTUM interior products, ideally suited to open spaces and high traffic, high impact areas. Panels can be attached directly to walls and ceilings in forms of panels, clouds, and square or curved. TECTUM linear hanging baffles give you even more design options.
Create a signature element in a space to complement your interior design. The possibilities are endless, the look is one-of-a-kind, and the acoustic properties of TECTUM panels can help quiet the space.
Contact us today to find out more information on Tectum Noise Control Solutions.