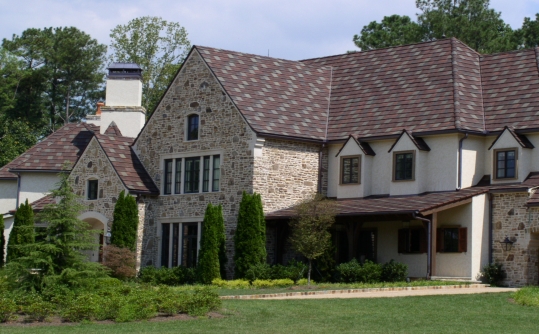 Unmatched Versatility and Beauty: Ludowici Clay Tile
With a wide spectrum of colors, finishing techniques and accessories, Ludowici clay tile gives your roof versatility and longevity. Many commercial business owners choose clay tiles because they last so long. Actually, they can last up to 100 years in fact. Featuring Old World artistry in contemporary styles, Ludowici roof tile is known for its unmatched beauty and strength. This unique type of roofing withstands harsh weather. Plus, it's eco-friendly and long-lasting. Here at Allen Consulting Group, Inc., we use the best materials from top-rated manufacturers. That's why we always go with Ludowici clay tile.
And with an industry-leading 75-year warranty, you get comprehensive coverage and peace of mind. So, let our experts help you create or match customized designs in any shape or style to complement your structure.
Benefits of Clay Tile
There are many reasons why so many business owners choose clay tile for their buildings, including:
Wide spectrum of colors: Clay tiles come in a rainbow of colors to complement the color and style of the rest of your building.
Many profiles and styles: From barrel style to wood or slate, clay tiles can mimic the appearance of other materials.
Increased property value: Because clay tiles cost more than simple asphalt roofing, they add to your building's property and resale value.
Low lifecycle cost: Because clay tile can last up to 100 years, they feature the lowest life cycle cost of all materials.
Fire, wind and hail resistant: Clay tile is Class A fire resistant, can withstand winds of up to 150 MPH and can resist damage from golf ball-sized hail.
Environmentally friendly: Materials don't deplete natural resources and have no chemical preservatives. All waste is recycled, with no contribution to the landfills.
Reduction in heat transfer: Tiles can reduce the transfer of heat by up to 70% when compared with asphalt shingles.
Finally, energy savings: Thanks to natural air flow, you can reduce your heating costs in winter and cooling costs in summer.
Contact Us About Ludowici Clay Tile
If you want to learn more about the benefits of Ludowici clay tile, get in touch with Allen Consulting Group, Inc. at 800-914-8667 or email us at acgi@allenconsultinggroup.net.